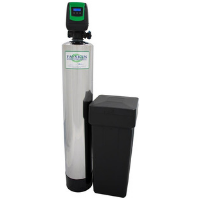 5810 High Flow Water Softeners
FAL-5810WS-XX
Available in various capacities. Click below for unit specific spec sheets.
5810 WS 1.0 Spec Sheet
5810 WS 1.5 Spec Sheet
5810 WS 2.0 Spec Sheet
5810 WS 2.5 Spec Sheet
Benefits of Soft Water in Your Home:
Clothes and linens are cleaner, brighter, softer, and last longer.
Dishes, glasses and silverware will be cleaner and free of scale deposit residue.
Soft water prolongs the life and maintains efficiency of all water using appliances, from the dishwasher to the kitchen sink.
Reduces soap scum.
Operating Features:
Up to 30 gpm flow rate
Quick connect fittings allow for easy installations
Simple electronics make control setup and programming a snap
Soft water brine refill
Valve utilizes a meter system allowing it to track and record gallon usage
Regeneration occurs based on exact gallons of water used
Digital display indicates exact time of day and gallons remaining until next regeneration
Install inside or outside (NEMA-3R rated)
Each cycle can be timed adjusted for efficiency and special application requirements
High flow integrated bypass valve
Vacation mode
Automatically filters out dirt and sediment
Optional touch screen LCD display
Specifications:
3/4″ to 1 1/2″ service
1 to 6 bathrooms
Item #s:
FAL-5810WS-1.0
FAL-5810WS-1.5
FAL-5810WS-2.0
FAL-5810WS-2.5