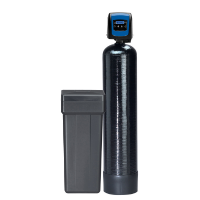 5800 WS Water Softener
FAL-5800WS-1.0
Benefits of Soft Water in Your Home:
Clothes and linens are cleaner, brighter, softer, and last longer
Dishes, glasses and silverware will be cleaner and spot free
Soft water prolongs the life and maintains efficiency of all water using appliances, from the dishwasher to the kitchen sink
Reduces soap scum
Efficiency:
Computer continually updates and calculates reserve capacity based on the actual history of daily water usage
Can be easily programmed to the water hardness
Automatically adjusts to less or more water usage
12 Volt DC for safety and energy efficiency
High capacity softening media uses less salt and water
Operation:
Fully automatic operation is controlled by a turbine meter that tracks every gallon that goes through the unit. This information is shared with the onboard computer that initiates the operation of the valve.
During regeneration, the internal filtration media will automatically discharge any sediment, dirt, etc. captured since the last regeneration. No need for an external housing, filter, or additional maintenance.
Specifications:
Applications up to 2.5 Baths
Water Softener: 8.5"D x 49.5"T
Brine Tank : 14"L x 14"W x 35" Tall
1.0 Cu Ft of high capacity softening resin
Item #: FAL-5800WS-1.0