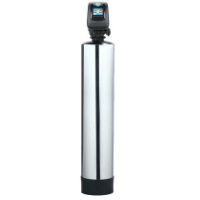 5810XTR Water Conditioner with Scale Protection
FAL-5810XTR-SS-XX
Available in:
FAL-5810XTR-SS-1.0
FAL-5810XTR-SS-1.5
FAL-5810XTR-SS-2.0
FAL-5810XTR-SS-2.5
Benefits:
Water will feel and taste better
Automatically filters out incoming dirt and sediment
Reduced hard water spotting on shower doors and dishes
Reduced hard water deposits on fixtures
Extends life of water using appliances
Brass sweat adapters for easy application
Operation:
The most effective no salt system available! We have incorporated the latest technology in scale control and water conditioning to create the best alternative to water softening. Uses a proven technology for scale control along with specially blended media for the reduction of chlorine and chloramines, utilizing not only the latest valve technology, but also the newest touch screen display.
Specifications:
1 to 5 bathrooms
¾" to 1 1/2" Service
*Not a solution for hard water issues
Item #s:
FAL-5810XTR-SS-1.0
FAL-5810XTR-SS-1.5
FAL-5810XTR-SS-2.0
FAL-5810XTR-SS-2.5