A home drinking water system is both a convenient and cost effective way to provide your family or business with quality drinking water. Imagine the convenience of having virtually an endless supply of bottled quality water available at your fingertips to use every day. No more deliveries, bottles to lift and store, lugging home bottles from the store, and most importantly, the ongoing cost of purchasing drinking water.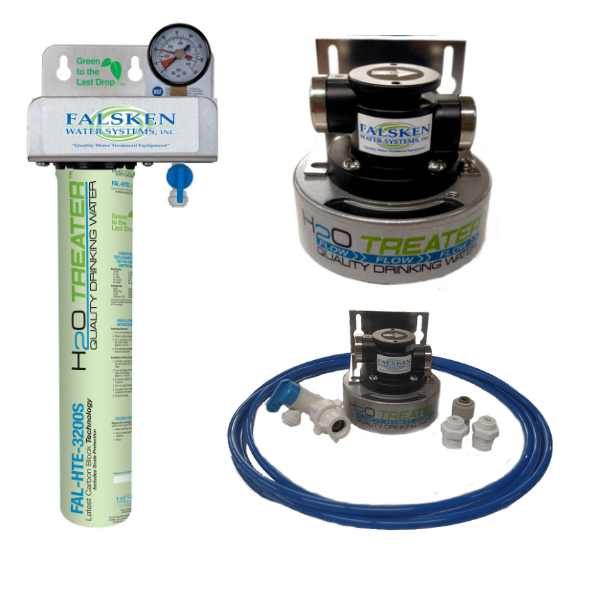 Carbon filtration, reverse osmosis, distillers and ultra violet treatment. Depending on your water chemistry, personal preference, and a few other questions to be answered, we can help you make the correct decision on determining which process or combination of processes is best for you.
The additional benefits beyond providing drinking water are often overlooked, but make a home system even more valuable to your family's health and lifestyle.
Here are just a few of the additional uses of quality water:
Cooking – pure natural flavors for tastier food

Coffee, Tea, Juices – more flavorless ingredients required

Ice Cubes – will taste better, be clearer and last longer

Weight Loss and Low Sodium Diets

Baby Formulas

Pets – drinking water and mix with dry food, they will love you for it

Plants – healthful for potted plants, extended life for cut flowers
Depending on your kitchen's layout, you may also be able to hook up your ice maker and dispenser on your refrigerator for bottled quality water and ice cubes.
Our drinking water systems are chosen for performance, ease of maintenance, quality long-life construction, and efficiency. All systems and components are american made and we use only the best-proven manufacturers. You can expect many years of performance and quality water from any of our drinking water systems.
We have a large selection of upgrade options to make your home drinking water systems even more effective, personalized and convenient.
Faucets in colors, styles and finishes to match any décor

Faucets for dispensing hot water only and faucets for 2 temperature dispensing 

Ultra Violet treatment for germicidal, bacterial and viral protection

Water Quality Monitors to ensure the system is producing quality water

Under Sink Chillers and Hot Tanks for instant cold drinking water or instant hot ingredient water.